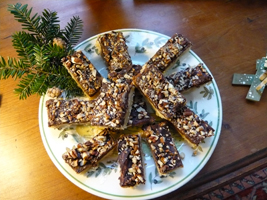 Toffee Bars
Ingredients
1¼ stick softened butter
½ cup dark brown sugar (or light brown sugar
1 teaspoon pure vanilla extract
1 cup flour
¼ teaspoon salt
4 squares (4 oz) semi-sweet chocolate (not baking chocolate)
½ cup finely chopped walnuts
Preheat oven to 350 degrees F.
Mix 1 stick of the butter, brown sugar and vanilla, beating together until thoroughly blended.
Add the flour and salt until completely mixed.
Press the mixture into the 8 inch square baking pan.
Bake at 350 degrees for 20 minutes.
Remove from the oven and cool in the pan on a rack.
Melt the remaining butter and 2 tablespoons chocolate together then let cool.
Be careful not to "kill" the chocolate.
Spread the cool chocolate over the crust in the pan that has also cooled.
Smooth it out then sprinkle the chopped nuts, pushing them down so they will stick into the chocolate.
Chill, cut, and eat.