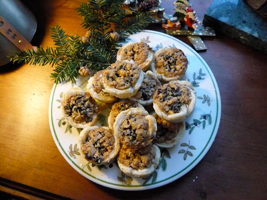 Currant Tarts
Crust
Ingredients
2 cups unbleached flour
1 teaspoon salt
¾ cup vegetable shortening (Crisco)
1/3 cup ice cold water
Cut the shortening into the flour with a pastry blender until about the size of breadcrumbs.
Add the cold water, mix lightly, and gather into a ball.
Divide the dough in half.
Cover to keep it from drying out.
Filling Ingredients
1 cup brown sugar
2 tablespoons melted butter
2 eggs
½ crushed walnuts
1 cup currants (or raisins)
Preheat oven to 325 degrees F.
Mix the sugar, butter, and eggs.
Add walnuts and currants (preferred) or raisins. The batter should be slightly "runny".
Roll out the piecrust.
Cut a round disc with an approximate 3" diameter cookie cutter (I use a donut cutter with the center removed).
Press this 3" disc into each individual 2-inch muffin pan.
Fill with mixture.
Optional top crust can be placed on each individual pie. In this case I use the removed center donut cutter.
Bake at 325 degrees for 20-25 minutes till nicely brown.
Makes 24 tarts.