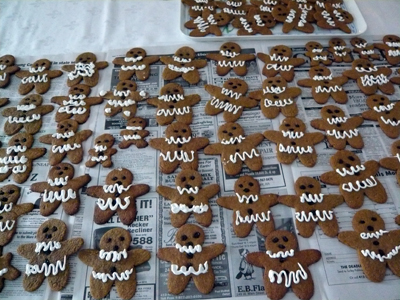 Gingerbread Man
Cookies
2 cups flour
1 cup wheat germ
1 tsp. cinnamon
1 tsp. ground cloves
1 tsp. ginger
½ tsp. Salt
½ tsp. baking soda
½ cup softened butter
1 cup sugar
1 egg
1 tsp. orange extract
½ cup molasses
Raisins or currants
White icing
Combine flour, wheat germ, spices, salt and baking powder in small bowl, mix well set aside.
Cream butter and sugar, egg, and orange extract thoroughly.
Add molasses to creamed mixture, and mix well.
Divide dough into several portions. Wrap each portion tightly in plastic wrap. Refrigerate until dough is firm enough to handle, about 2 hours or overnight.
Roll out dough on lightly floured board to 1/8-inch thickness. Cut with floured gingerbread cookie cutter.
Use raisins or currants for eyes, etc.
Bake at 375 degrees for 6 minutes or until lightly browned.
Makes about 2 dozen cookies