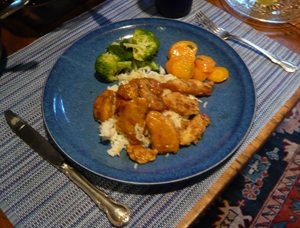 Trish's Sweet & Sour Chicken
3 lbs boneless chicken breast, cut into 2" pieces
1 beaten egg
1 cup flour
Oil or butter to sauté chicken in
Dip chicken in egg, then in flour. Shake off excess flour and sauté until golden and crisp.
Sauce
3 tbsp. soy sauce
3 tbsp. butter, melted
1 cup white sugar (it's not too much)
½ cup white vinegar
Salt and pepper
Combine ingredients in a bowl. Place sautéed chicken in flat baking dish and pour sauce over. Bake at 350º for 30 minutes.
Trish is my friend from Toronto who is a fabulous cook. She often composes her food as she cooks it. You will probably end up with a different dish than she planned in the beginning of getting dinner. We often stop on our way home from Detroit, MI in the middle of a cold Canadian snowstorm for one of her great dinners.