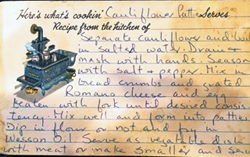 Mary Concetta LaCava Drucas's Cauliflower Patties
My cauliflower patty recipe came from my grandmother; where she got it I'm not too sure. A lot of her recipes were handed down to her generation by generation tracing all the way back to her home country of Sicily. This is one of those recipes that was never really written down so I really can't be sure. There is no standard measuring here either; basically using the palm of your hand including a pinch here and a dash there. What I do know for sure is it's a definite must around the holidays in my house and making them will always remind me of my grams!
— Elissa Gillis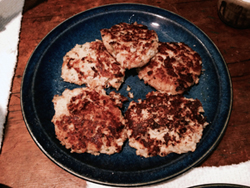 Separate cauliflower and boil in salted water.
Drain and mash with hands.
Season with salt and pepper.
Mix in breadcrumbs and grated Romano cheese.****
Add egg.
Beat with fork to desired consistency.
Mix well and form into patties.
Dip in flour or not and fry until golden in Wesson oil.
Serve as a vegetable dish with meat or make smaller and serve as appetizer.
**** Handful at a time as necessary; start with one handful of each and adjust for formable patties