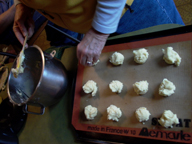 Preheat oven to 375°F.
Mix together the butter and sugar till fluffy.
Beat in the eggs, cream or milk, and vanilla.
Now add the flour, salt, baking powder (which has been all sifted together).
Mix well.
Drop by teaspoonful on buttered cookie sheet about 1" apart.
Sprinkle top of each cookie with sugar.
Bake about 8 minute at 375°, but make sure you don't over bake them.