Chocolate Chip Cookies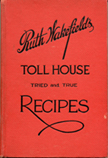 I have probably made thousands of these cookies in the same Kitchen Aide mixer purchased in 1957. I could make them in my sleep.
Chocolate chip cookies were first made in Whitman, Massachusetts by Ruth Wakefield at the Toll House Inn in the 1930's She added a chopped up chocolate bar to her favorite cookie recipe hoping it would melt and make chocolate cookies but the chocolate did not melt, and hence the famous cookie.
The recipe has not changed in all these years except we now use chocolate chips, introduced by Nestle in 1939.