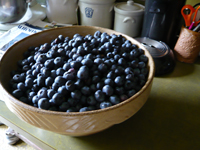 Blueberry-Cinnamon Cake
½ cup butter
1 cup sugar
2 eggs
2½ cups flour
1½ tsps. baking powder
½ tsp. Salt
½ cup milk
1½ cups blueberries
3 tbsp. sugar mixed with 1 tsp. cinnamon
Preheat oven to 375º
Butter and flour a 9" pan.
Cream butter and sugar; beat until light.
Add eggs one at a time, beating well after each.
Sift together flour, baking powder, and salt and add alternately with milk.
Beat until smooth.
Fold in berries.
Pour into baking pan and sprinkle with sugar–cinnamon mixture.
Bake about 40 minutes until done.
Cut into squares and serve warm.