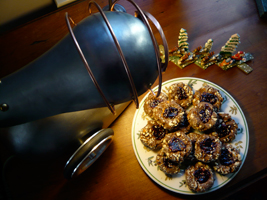 Chocolate Raspberry Thumbprints
Ingredients
2¾ cup all-purpose flour
¼ teaspoon baking soda
¼ teaspoon salt
1 cup (2 sticks) butter (no substitutions), softened
¾ cup granulated sugar
1 large egg
1 teaspoon vanilla extract
2 ounces unsweetened chocolate, melted
¼ cup unsweetened cocoa
1¼ cup sliced natural almonds, coarsely chopped
1½ cup seedless red raspberry or apricot jam
Preheat oven to 350 degrees F.
Combine flour, baking soda, and salt in separate bowl.
Mix butter and suger until creamy.
Add egg, vanilla, chocolate, and cocoa then beat until well mixed.
Gradually beat in flour mixture until blended.
Roll into 1-inch balls and roll on the chopped almonds.
Place on ungreased cookie sheet 1-2 inches apart.
With your thumb or a spoon make a small indentation in the center of each ball.
Fill with about ¼ teaspoon of red raspberry jam.
Bake 14-15 minutes or until jam is bubbly.
Cool on wire rack.