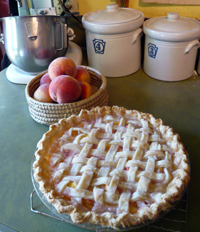 Rhubarb Pie (9-inch pie plate)
Crust
2 cups unbleached flour (King Arthur)
1 teaspoon salt
¾ cup vegetable shortening (Crisco)
1/3 cup ice cold water
Cut the shortening into the flour with a pastry blender until about the size of breadcrumbs.
Add the cold water, mix lightly, and gather into a ball.
Divide the dough in half.
Roll dough on floured surface until it will fit the pie plate.
Cover the other half of the dough to keep it from drying out.
Filling
2 cups rhubarb cut into ½" pieces
1 cup sugar
1 egg
2 tablespoons flour
Preheat oven to 425°F.
Mix together sugar, egg and flour.
Add rhubarb.
Pour into unbaked pie shell.
Cover with top crust or make a lattice top.
Bake at 425 degrees for 12 minutes. Then turn temperature down to 375º Bake at 375º for about 30 minutes, but check to see if rhubarb is bubbly.