Pumpkin or Squash Custard Pie
(9-inch pie plate)
Crust
2 cups unbleached flour (King Arthur)
1 teaspoon salt
¾ cup vegetable shortening (Crisco)
1/3 cup ice cold water
Cut the shortening into the flour with a pastry blender until about the size of breadcrumbs.
Add the cold water, mix lightly, and gather into a ball.

Divide the dough in half.

Roll dough on floured surface until it will fit the pie plate.

Cover the other half of the dough to keep it from drying out.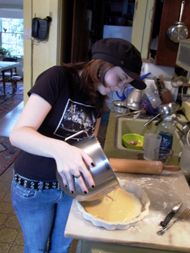 Tip
Cut the shortening into the flour by hand with pastry cutter or 2 forks. Do not use food processor, it mixes the shortening too well.
Filling
¾ cups sugar
3 tablespoons butter
2 eggs, beaten
1¼ cups squash (or pumpkin) or more
Salt
1 teaspoon vanilla
¼ teaspoon ginger
¼ teaspoon cinnamon
¼ teaspoon nutmeg
1½ cups milk
Preheat oven to 425°F.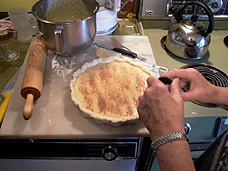 Blend sugar and butter in mixer.
Add other ingredients in order as written.
Pour into pie crust.
Sprinkle nutmeg on top of pie before baking for decoration.
Bake for 15 minutes at 425°, then turn down oven to 350° and bake for 30 minutes or until just set.
Cool before serving.