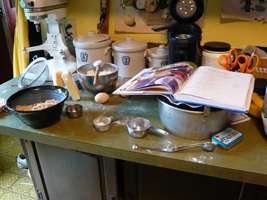 Christmas Morning Cinnamon Rolls
In a large bowl, combine:
3½ cups all purpose flour
1 pkg. Active dry yeast
Heat 1 cup milk to 120-130 degrees. Add to it:
½ tsp salt
1/3 cup butter
1/3 cup sugar
1 egg
Topping
2 T. butter softened
¾ cup brown sugar
2 tsp. Cinnamon
½ cup raisins
Add milk, salt, butter sugar and egg to flour mixture, mix in Kitchen Aide mixer until soft dough forms
Let rise 60 minutes, punch down, let rest 10 minutes
Roll out dough, spread with 2 T of softened butter
Then the sugar mixture, roll up and cut into 12 pieces.
Place in buttered pan and let rise 30 minutes Bake at 350 for 25-30 minutes
OR Refrigerate over night, let stand for 20 minutes and then bake as above.
Remove from pan while still warm.
Enjoy.