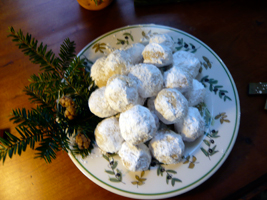 Almond Christmas Balls
Ingredients
2 sticks butter
½ cup sugar
4 cups flour
2 cups ground almonds (unbleached)
2 teaspoons vanilla
Preheat oven to 300 degrees F.
Cream butter then add sugar, flour, almonds and vanilla till mixed.
Roll into teaspoon sized balls with your hands.

Place on a buttered cookie sheet and bake at 300 degrees for 35 minutes.

After cooked while still warm roll in confectionary sugar...then eat them. They can be frozen till you need them.