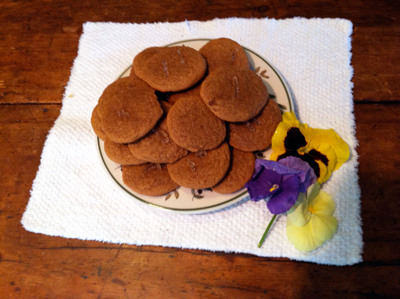 Gingersnaps
For crunchy cookies, overbake slightly; for more tender ones, underbake by a minute or two.
Preheat oven to 350 degrees
Grease or line two cookie sheets
Whisk together:
1 ¾ cup flour
¾ tsp. baking powder
¼ tsp. baking soda
Pinch of salt
2 ½ tsp. ginger
1 tsp. cinnamon
1/8 tsp. ground cloves
Beat in a large bowl until very fluffy:
6 tblsps. (¾ stick) softened butter
¾ cup sugar
Add and beat until well combined:
1 large egg
¼ cup dark molasses
Stir in the flour mixture until blended. Form the dough into ¾ inch balls and arrange about 1½ inches apart on the cookie sheets. I cut pieces of candied ginger into small strips and put two on each cookie before baking them. The cookies will flatten and develop a crinkled surface as they bake. Bake for 10-12 minutes. Let stand briefly, then remove to a rack to cool.