Stainless Steels: An ASM Specialty Handbook
Edited by J.R. Davis
Published by ASM (American Society for Materials), 1994
577 pages
With the addition of chromium to iron and the subsequent passive oxide that forms, corrosion resistance was enhanced. These groups of alloys became known as Stainless Steel. This book is a comprehensive single source look at these alloys from all perspectives.
The book is separated into five major sections:
Introduction to Stainless Steels
Corrosion Behavior
Fabrication and Finishing
Metallography, Microstructures, and Phase Diagrams
Properties of Stainless Steels
The book starts out with a good introduction into the 6 basic alloy groups: Austenitic, Ferritic, Martensitic, Precipitation-hardening, and Duplex. Their mechanical and physical properties, numbering systems and pertinent subjects useful to all users are discussed.
Once an appropriate alloy is chosen, the actual fabrication of these materials is discussed. This includes: forming, forging and extrusion, heat treating, machining, welding, brazing, soldering, adhesive bonding, and surface engineering.
The chapter on welding being 60 pages long is particularly useful both on a theory and practical level for all performing this task. This chapter even spends time on the advantage of purifying your shielding gas, using the inert purification unit that is offered in the for sale section of this web site, to increase weld quality. Surface finishing is discussed, helping those interested in understanding the appearance, durability and cleanliness, such as for food services.
The last part of the book has an important chapter on "Elevated-Temperature Properties". Since stainless steel is chosen for its corrosion resistance properties, this use at elevated temperatures is discussed.
To sum this book up, there are parts in his book that are easily read by a novice/layman with a common sense approach. Other areas are very technical allowing one to go deeper into the subjects. This book will help a user to actually get on their feet, with plenty of room to grow in the science as you learn and progress into a professional understanding. This is a must have for anyone wanting to use stainless steels in an understandable way.
This book can be purchased alone, or as a companion book with the Carbon and Alloy Steel book at a reduced two-book rate, $445 plus shipping and handling.
Hardcover, 577 pages $299.00
plus $15.00 S & H in the U.S only
For US orders, click here: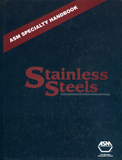 Buy Stainless Steels AND
Carbon and Alloy Steels
for only
$539 plus $28 s/h