Machinery's Handbook, 29th Edition
by Oberg, Jones, Horton, Rufell
Published by Industrial Press, Inc.
3,428 pages; large number of illustrations, charts and figures
This is the "bible" for the machinist and the metalworking industry. It is very comprehensive, generally easy to read and understand, written for the laymen and engineer alike. It was first published in 1914 and now on the 27th edition. It comes with or without thumb index for quick reference. This book's strong point is in its comprehensive listing of all subjects in metalworking. When I poured the babbitt, main and rod bearings for my 1910 Pierce Arrow automobile engine, this is where I got my information. In machining parts with different required fits, both running and press, this book has the tables to determine appropriate tolerances. This is not limited to metals, although the section on properties of materials covers it in depth, with applications, charts, alloy designations, machinability weldability, etc. Ceramics, woods, plastics, etc. are covered. Threading, parameters, gears, machine design, tooling, etc. are also covered.
It is often overlooked as a resource to help solve problems in the metal working industry, the more you use it you will realize its great importance and potential.
For the individual, this book can often be purchased in older editions at flea markets or used bookstores at a fraction of the new books. It is a wise investment. It's a must-have! It's also a great idea to have several editions (for example, I own one from the 1950s, 1970s and current...all have relevance and information that isn't always available elsewhere).
29th Edition - $115.95 + s/h $15. U.S. only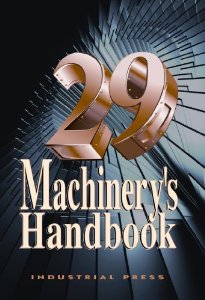 For US orders, click here: